Charles Lloyd & Jason Moran - Hagar's Song (2013) / post-bop, modern creative, pillow jazz, ECM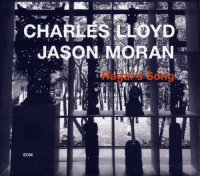 Помню, как она вышла из булочной...
Tracklist:
01. Pretty Girl (Strayhorn) - 4:52
02. Mood Indigo (Ellington) - 5:18
03. Bess, You Is My Woman Now (Gershwin) - 3:39
04. All About Ronnie (Greene) - 4:21
05. Pictogram (Lloyd) - 4:00
06. You've Changed (Fischer) - 4:51
07. Hagar Suite I: Journey Up River (Lloyd) - 6:21
08. Hagar Suite II: Dreams of White Bluff (Lloyd) - 9:46
09. Hagar Suite III: Alone (Lloyd) - 2:30
10. Hagar Suite IV: Bolivar Blues (Lloyd) - 4:18
11. Hagar Suite V: Hagar's Lullaby (Lloyd) - 5:44
12. Rosetta (Hines) - 4:42
13. I Shall Be Released (Dylan) - 5:12
14. God Only Knows (Wilson) - 3:31
Personnel:
Charles Lloyd - tenor saxophone, alto saxophone, bass flute, alto flute
Jason Moran - piano, tambourine
rusfolder
- FLAC
uploaded
- FLAC
rutracker
- FLAC
uploaded
- 320 kbs
"Hagar's Song", the newest release from long-time ECM luminary Charles Lloyd, is an interactive duo recording with Jason Moran, the pianist who has been a key member of Lloyd's latter-day quartet, contributing to the albums Rabo de Nube (2008), Mirror (2010) and Athens Concert (2012). The album features pieces especially dear to Lloyd, ranging from compositions by Billy Strayhorn ("Pretty Girl" a/k/a "Star-Crossed Lovers"), Duke Ellington ("Mood Indigo"), George Gershwin ("Bess, You Is My Woman Now") and Earl Hines ("Rosetta") to a standard strongly associated with Billie Holiday ("You've Changed"), Brian Wilson's most famous Beach Boys ballad ("God Only Knows") and a Bob Dylan song definitively interpreted by the Band ("I Shall Be Released"), played in memory of the late Levon Helm. The centerpiece of the set is the title suite composed by Lloyd and dedicated to his great-great-grandmother, who was taken from her home in south Mississippi at age 10 and sold to a slave-owner in Tennessee. "When I learned the story of her life it moved me very deeply," says Lloyd. "The suite mirrors the stages of her life; loss of family, loneliness and the unknown, dreams, sorrow, and songs to her newborn children."